Vacation, All I Ever Wanted
Local designers and homeowners spill their secrets for a stylish getaway
MAR 6, 2017
The designer
Paige Dick
Paige Designs Interior Design, Cary
paigedesignsllc.com
(720) 220-9500
Vacation. It's early spring and we're already dreaming about it.
Be bold with color
"People are apt to be more bold with color (at vacation homes)," said Cary-based designer Paige Dick. "When most people think of a beach house they think bright, happy colors, but they might be afraid to do that in their own home."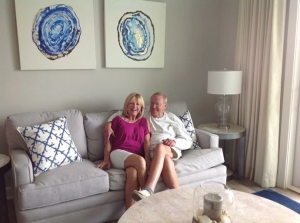 Comfortable details and durable furnishings are paramount in outfitting the Hall family vacation home, which is used by Kim Hall's extended family, including mother- and father-in-law, Bob and Betty Hall, above.
Dick recently collaborated with Cary resident Kim Hall on a vacation property in the Florida Keys. The home, co-owned by Hall's extended family, is a rental property and also serves as a gathering spot for vacations together.
Paige helped Hall settle on a feel that was "coastal, but not overwhelming. We wanted it to feel beachy without being overdone," she said.
"We wanted it to have a cooler vibe and a more laid-back atmosphere," Hall said, admitting that much of the vacation home's decor wouldn't fit in her Cary home — such as the octopus shower curtain.
"And we wanted to equip it really well," she said, citing a fully-functional kitchen, cozy linens, and paddleboards and kayaks available for renters' use. "We wanted a place that people want to come to and want to come back to."
Owner Kim Hall says the living room is her favorite space in her Marathon, Fla., home. Neutral colors are accented with pops of blue and ocean-themed accessories to create a relaxing, coastal atmosphere. Photos courtesy of Coco Plum Vacation Rentals.
Choose durable materials
Whether working on a private residence or a rental property, both designers emphasize the importance of careful material selections in a vacation home.
Vacation properties "are a little more casual and more rugged. They can take abuse," said Rider. "When (the owners are) in their vacation home they want to relax or entertain; they don't want to spend their time cleaning. And you want people to feel comfortable, so you want materials you can put your feet up on or can spill something on."
Situated in a fishing community, Hall's Florida home required special attention to factor in sun exposure, fishing gear and the wear and tear of renters. "We wanted (furnishings) and fabrics that would be very durable," Dick explained. "It was worth putting a little more money into the furniture to make sure it would last."
Vacation homes can be a fun chance to play with a theme, Dick says, like the Saklads' nautical cabin or a woodsy mountain lodge.
"It creates conversation," she said, "and makes guests experience a different feeling than they normally have at home."
Vacation goals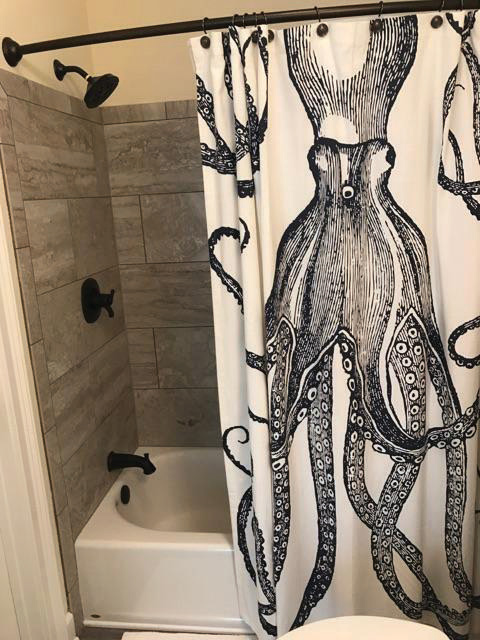 The octopus shower curtain fits the coastal vibe of the Florida home and is fun and memorable for renters.
To craft your ideal vacation home, Dan Saklad notes that it's important to define your goals.
"Do you want to rent it out, or do you want a complete sanctuary for family and friends? Those are two very different approaches," he said.
"Our house is built around activity," Dan said. "We wanted places for paddleboards and bikes, for the Kamado grill and hammocks, because it's a place that people can come, hang out and just go have fun."
"Another feature that really drew us was the marsh view. The view at any time of day is gorgeous. But we are walking distance to the harbor and all that has to offer," added Diana.
Also consider where you are building, Rider said.
"In the mountains you'll need storage for skis … and a drop station for jackets, snowsuits and dirty boots. At the beach, are you going to be washing 10 towels a day? You may want bigger appliances or even a pair.
"I always encourage clients who are building outside of the primary area they live in to talk to a couple of local contractors," Rider advised. "(Contractors) live there and they understand the lifestyle. Making changes after construction has begun is difficult and expensive. Contractors know what has worked for them in the past."
If your property is geared for family vacations, involve everyone in the design process, Dick suggests.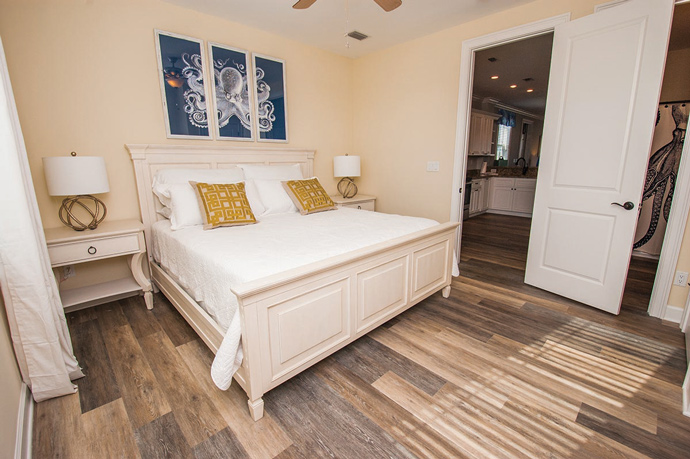 The beachy decor, like the octopus print above the bed, left, "wouldn't go in my house in Cary," confessed Kim Hall, but she loves the look for the family's island home.
"Find something fun and create a 'wow' factor. Make every room unique — this is your opportunity to be bold and mix color and pattern," she said.
"With design, you can create a style of home that gives you a certain flavor," Rider said. "As soon as you pull up you want to feel something. You want to be excited and carry that feel throughout the home."